Welcome Message from Ramin Davidoff, MD, Executive Medical Director and Chairman of the Board, Southern California Permanente Medical Group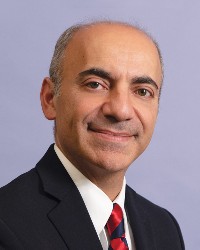 Welcome to the SCPMG Retiree website. At SCPMG not only do we practice a unique approach to high–quality, evidence–based, and affordable care that puts our patients first, we also embrace diversity in our workforce, promoting a culture that welcomes and values everyone's unique talents, viewpoints, and backgrounds.
We have great esteem for the retirees who have dedicated their careers to creating such an honored legacy. This site is dedicated to providing you with the information you need to reach your retirement goals and make the most of your robust retirement benefits.
I invite you all to peruse this site and let us know what else we can do to enhance and improve upon your online experience. Your suggestions and feedback are essential for helping us to enrich the site and find innovative ways to connect with the retiree community.
The progress and longevity of SCPMG is a testament to the thousands of skilled physicians and employees who have cared for our Southern California members over the years. I want to personally thank each of you for your years of dedication to Kaiser Permanente and SCPMG. I wish all the best to you and your loved ones as you enjoy your well–deserved retirement.
Best Regards,
Ramin